01.31.2005 -
thought of the day: i've noticed my motivation for doing well in school after HS has gone way downhill. i still love learning, but getting good grades is no longer a priority. maybe because grades don't matter much anymore or maybe because there's no parents here to push me, but i don't think that's it. i think it's just that we don't have enough time to consume everything thrown at us. before i would spend hours or days trying to solve or understand a problem. right now, all i do is learn how to apply stuff and get it over with. of course the learning has greatly decreased, but im guessing we're replacing quality w/ quantity, which i don't really prefer. but what can you do in such an environment?
H A P P Y B D A Y J O E H K ! ! !
went to davis for the 1st time this sunday and visited mmouse. he gave me a full tour of campus and even let the baby cows suckle my finger which was a weird experience. it was a weird day, i had woke up @ 8:30pm on saturday, didn't feel like going to sleep at 8am and gave my friend a call to see if he was willing to take me to davis w/ him. i ended up coming back around 8pm that nite and didn't sleep to near 12am. so i was technically up for almost 28hrs. hence y no update last nite.
saw this cute little car outside etcheverry today: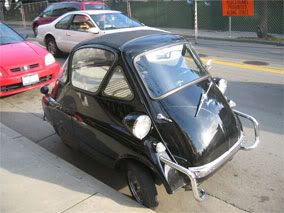 BMW Isetta 300 (more info here)
thanks to fuzzywuzzy for donating this video: musical x techno. really fun to see techno dancing in a musical environment
thanks to cdmcc for donating these 2 craiglist listings: $175 - Stay in my stationwagon for cheap! and Woman masturbating on the L train.... Of course you will have have to live/rent the CAR APARTMENT in my drive-way. It's quite nice and near the Berkeley Capus, 7-11, various neighborhood bars, and a laundromat. If you ask nicely I can even park my car at the laundromat so you have easy access to clean your clothing.
got this flash video from