10.31.2004 -
thought of the day: have you ever dreamt that you were peeing and actually wet your bed? embarrasing as it is, it's happened to me when i was younger. well, i was having this dream yesterday. well before that i woke up and needed to go pee, but i didn't want to get outta bed. so i went back to sleep. so somehow i dreamt i was peeing in the bathroom (forgot where i was). when i woke up, i'm like o shit! i felt my pants and they were dry and i let out a sigh of relief. rushed to the bathroom immediately tho. just in case. ;p
spam count (from 10/25/2004): 932
this sux. i have an 4x dvd burner and 8x dvd+r media, and my burner would only burn @ 2.4x.
got this from an AT thread: Bertie Bott's 10 Flavor Discovery Box. interesting flavors they have now for jelly belly: The magical 4.25 oz Discovery Box holds 10 wild flavors, each in its own pocket. The wild flavor lineup includes three brand new flavors: Spaghetti, Soap and Earthworm. Joining them are the other crazy flavors of Dirt, Earwax, Black Pepper, Sardine, Booger, Grass and even Vomit. Bertie Bott's Every Flavor Beans are true to their name!
thanks to cdmcc for donating this link: Burleson Consulting Dress Code. funny description on what formal business attire is for men and women.
thanks to nyako for donating this comic: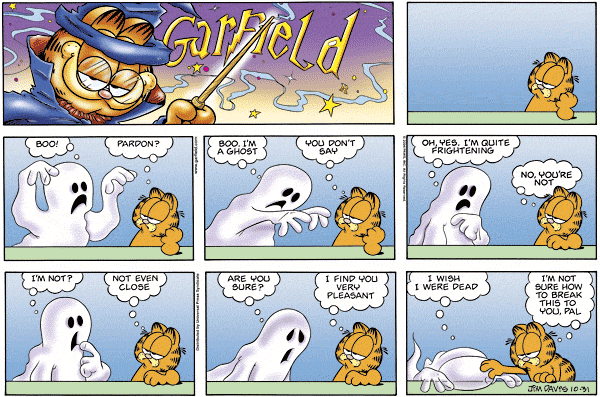 garfield's halloween (click to enlarge)
got this from